In this section of the manual, we will take a look at all the buttons and menus of the bcs window. If you don't know what a certain term means, you can take a look at the Glossary chapter. Most of the special terms are links to the entry in the glossary, so that you can just click it to see its description. Exceptions are dataPoint, weight, and weightPosition, as you should already know them.
This is the main UI for creating and setting up bcs nodes. You can start it by running the script DPK_bcsUI. The window is divided into four parts. From left to right, these are the weight pane, the weight list, the dataPoint list, and the dataPoint pane. Below them is the BCS Node drop-down list, a select and a close button.

Click an item on the image to jump to its description.
The BCS node drop-down menu contains all bcs nodes that exist in the scene. The node that is chosen in this menu will be edited in the UI and is considered the current bcs node. You can select it in the scene using the Select button.
At the bottom of the UI between the Select and the Close buttons there is an area where a right-click brings up this marking menu: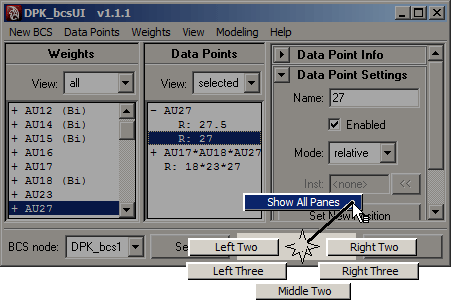 You can use it to quickly switch the visibility of the different areas of the UI.